Nova Scotia's Energy Map
*UPDATE COMING (eventually) - Teaser, hopefully the same content as an HTML5 version of the map! In the meantime use the Puffin browser to view the old Flash based map.
Please scroll down to view the map.
Introduction: Renewables and Energy Storage
This website and map represents a combination of data to visualize what renewable resources we are currently using in this province and view our historical energy developments. The main concept is to promote a "Climate and Ecologically Friendly" Energy Storage based Power Grid, one that isn't limited strictly to the historical and forecasted 8-14 TWh of annual electricity use in the province, but that extends into the transportation and heating sector. It is vital to note that in 2005 - almost half of the province's greenhouse gas emissions came from the power grid, while a quarter came from transportation, and nearly a quarter in the form of building heating. Total Primary Energy Use in Nova Scotia was approximately 75TWh a few years ago, primarily from Oil, Coal, & Natural Gas and some from Wind-Water-Solar-Biomass or WWSB; so there remains a lot of potential.
Perhaps future provincial developments will take the form of an East Coast Hydrogen Economy, allowing for greater integration of renewables beyond the forecasts suggested by the "Hatch Report, 2008" and the newly released "GE Energy Consulting Report, 2013". Energy storage is a great topic to read up on and vital for our shared energy future. The term Energy Storage covers a number of technologies such as kinetic (fly-wheels), chemical (natural gas, oil, coal, hydrogen, lead-acid batteries, flow batteries), or potential (hydropower dams, compressed air) to name a few options. Two main types of Energy Storage exist, that of Bulk Power Transfer, which means storing larger quantities of energy for longer durations until drops in supply occur, in the case of renewable energy, or it would be more expensive to operate what are called Peaking Units. The most common in this category are Pumped Hydropower, Compressed Air, and Hydrogen Fuel. The second type is of a Power Quality nature, where quick and dynamic energy fluctuations are matched with short term reserves. The most promising in this category are Flywheels, Batteries and Ultra-Capacitors.

Intermittent Energy:
One primary issue with variable energy resources is that by definition these sources are harder to accommodate with currently built infrastructure and policy. Overall Hydropower output varies each year depending on rain, snowfall and evaporation. Solar varies with cloud cover and temperature but is approximately constant on a clear day, depending on the time of day. Wind varies with each passing weather system. Tidal cycles follow the moon's orbit and position of the sun to Earth's rotation. Even though these energy resources can be approximately predicted the day before it is not perfect. With current technology there is always going to be a need to adapt the power generation scheduling plan to fit the weather situation as it happens, which can use up energy reserves. When the margin of error is large, it may affect power quality if not planned for properly. This requires having sufficient power generation that can match any sudden changes for reliable energy delivery.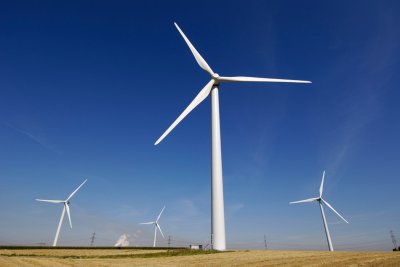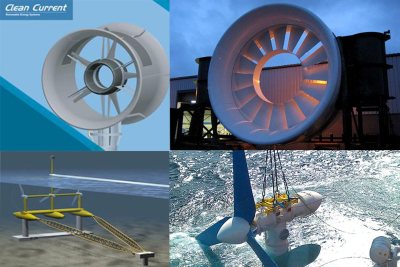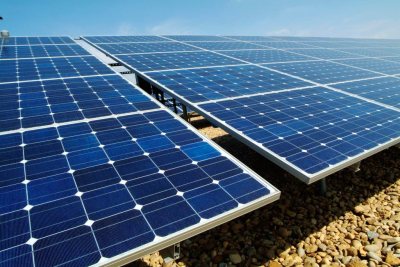 Historical Context:
In Europe a lot has already been implemented in Germany and Denmark with large scale wind farms. Similarly in North America, Texas and Quebec have made similar progress. Nova Scotia has made great strides over the last decade integrating wind into our energy mix. It can be seen in the literature there needs to be infrastructure in place to react and balance quickly (0 to 60 seconds) to ever changing renewable energy variations and customers' changing demands that also occur over longer stretches of time (15 minutes to several hours). Typically pumped hydropower is used in Europe, but it would be smart to start making progress on Compressed Air storage (CAES) and Hydrogen storage as grid backup supply and peak leveling. The benefit with Hydrogen is it has spin off uses throughout the economy, specifically fueling part of the transportation market, and can be trucked in a similar manner to fuel oil and other common substances used today.
Technical Considerations of Distributed Generation and Centralization:
The further away power generation is from the end use results in greater line loss, and losses from substations that convert between higher or lower line voltages. One major advantage to solar power when added on appropriate residential, commercial and industrial buildings is that less energy is wasted on the way and can be used in the local distribution grid to lower demand on larger generation plants. At the moment we have natural gas to provide quick responses for power fluctuations to a certain extent, and when solar, wind and tidal pitch in we can stretch out our energy budget. The main issue with Nova Scotia's aging infrastructure is the limitation of how much fluctuation can be balanced on the distribution grids. This is where CAES and Flywheels may potentially have a role to play in each subdivision, also the actual power connections will eventually need to be upgraded to allow for some form of Smart Metering, or Advanced Metering Infrastructure. Perhaps it can be deployed in phases where the technology and infrastructure requirements allow? That may be an excellent question for an Electrical Engineer or Power System Operator.
Features of the Energy Map
Map and Calculator Tab: Please use the sliders on the far left or, 1st tab, to view Solar, Wind and Tidal maps integrated into this Flash app. The colour legends for each map reside at the bottom of this tab, an indicator moves as you move the mouse on the map, and displays a numerical output for easy reference.
LineGraph Group Tab: The line graph(s) represent a simplified visual of up to six groups of personal daily energy use patterns, please drag the circles up or down to 'model' your typical energy use in three hour increments. If you try this feature out simply click on the matching colour box on the 1st tab to compute the daily average energy use and see what the total would cost you a day at the present residential 14.251 cents per kilowatt-hour (KWh), feel free to click and enter a different rate. Once you have put your typical use in, see how much you could save by 'turning off a few light bulbs' or switch to CFL/LED bulbs, e.g. lower that line a little, or as another example if you use electric heat, also try turning the temperature down slightly and see if you can save in the range of a dollar a day. I used this grouping method to estimate my power bill and it was accurate for calculations on a yellow post-it-note. For something more comprehensive please check out the Energy Calculator on Nova Scotia Power's website, if you have a little more time you can produce a finely tuned energy bill estimate for your household.
PieGraph Tab: The pie graph represents Rated Capacity in Megawatts (MW) of each unit. Each power category has a colour, and each unit is a different shade of that colour. The actual annual production measured in Gigawatt Hours (GWh) and is different every year depending on system operator requirements such as maintenance, weather and daily fluctuations from customer demands. The GWh in the upper right is a simplified total of all the rated capacity if it operated at certain average level all year.

Update1: has been made to the GWh in the popup window only, and now based on the Canadian Wind Atlas data, all the major wind farms, not including ComFITs, demonstrate what Annual GWh they would produce on an average year. This is based on each wind farms' unique turbines and the typical climatic wind histogram that is expected each year for the coordinates of the wind farm. This will be updated to reflect the new numbers in the pie graph at a later date.

Update2: Regarding Thermal (Coal, Gas, Oil, Biomass) and Hydro stations the GWh displayed in each popup is based on four years of Nova Scotia Power published data from 2009-2012, combined and scaled with CanESS data from 1978-2010. Using system totals, such as percentage of Oil, Gas, Coal, Biomass and Hydropower - the parameters enabled the selection of one solution out of a solution curve for each thermal power plant. Please do not quote the numbers related to GWh in each popup as "Actuals", but as approximate and probable power production that year. I will be adding an indicator to each popup so that users can discern which numbers are exact data, and which are scaled/interpolated data.

Major Update3:I have introduced a beta feature which allows people to add power plants on the map. Be careful not to refresh, as the data is only temporary! If you do want to delete, click an icon you have added and press 'delete'. I hope you enjoy testing the feature out, as I have done a fair bit of debugging, please feel free to send me feature requests, or if you catalogue an interesting bug, please be sure to send it my way. GWh Canada Wind Atlas data has now been computed for 41 new ComFIT Wind Farms. ComFITs smaller that 800kw have not been added. Full Screen Interactivity has been activated, meaning you can finally edit the text fields while full screen, such as changing how large a wind turbine or farm the NSWA GWh calculation uses, or inputting values in the Calculator tab.
Map Options Tab: The checkboxes enable showing or hiding elements on the map, the ocean checkbox is simply an animated ocean, just because. Warning: Do not use the animated ocean feature if you are on a smartphone with a Flash capable browser, such as Puffin, unless you are using a wireless hotspot. The animation is designed for full screen on a desktop and weighs in at 44 MB, not something you want on your data plan! The 'F' button makes the app Full Screen; simply click again where it changes into an 'X' to go back to the regular view.
Equations Tab: The tab on the far right presents two modifiable Solar and Wind energy equations that output how many Hydrogen Fuel Cell Electric Hybrid Vehicles (FCEVs) a year, depending on the cursor location on the map. Try changing the wind map from 30m to 80m to see how large wind turbines can power more FCEVs. The plan is to have production line FCEVs released by approximately 2015 by a number of different auto manufacturers. Currently across Canada and the world, industry is using FCEVs such as forklifts, buses, utility 'golf' carts, and heavy equipment on construction/mining sites to save money, or protect worker's health by improving indoor air quality. Note: I made some assumptions when creating the initial values of the equations, the outlined boxes contain editable values; feel free to see the change in FCEVs that could have Hydrogen fuel for a year. One very important thing regarding the wind calculation, the 'Weibull number', which is simply a shaping factor for wind power on a bell curve that can have a longer tail, or move the median back or forth; is incorrectly using a factor of the wind speed multiplied by 0.105 to convert how many MW of the wind turbine/farm Rated Capacity are actually being produced. This will be fixed by using a simplified model of a typical large scale turbine in a future version of the app. The image below on the left is an FCEV Hyundai model, and the image on the right is a Battery Electric Vehicle (BEV), in this case a Tesla Model S. A BEV toggle will be added to compare volume of vehicles fueled for a year, which is only one of the differences between these two technologies. Presently in operational use BEVs have lower GHG emissions to fuel up than FCEVs, but it is vital to consider the entire Lifecycle Cost Assessment in regards to materials, embodied energy and air pollution. Looking at synergies with the electric grid and the transportation sector, there are definitely unique energy and environmental consequences of favouring either technology.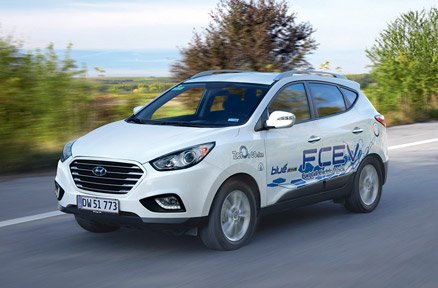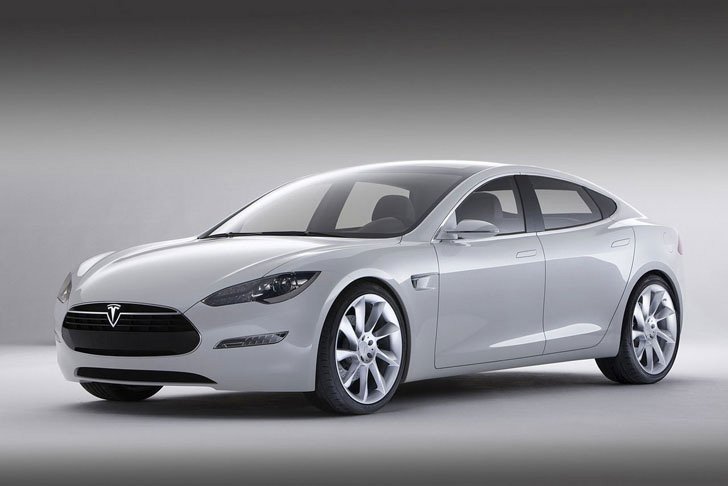 Timeline Tab: The timeline on the bottom of the app allows the user to play through the evolution of the power plant construction in Nova Scotia. Click and drag the year indicator, skip forward or back, go 'frame by frame', and change the play back speed with the blue boxes on the right of the timeline.
General: When the Tidal map is visible, click once on it to zoom in, and then click to change the view, after several clicks it will 'zoom out' back to the main view of the full map. Check out the wind turbines that display a plus symbol indicating the presence of a wind farm map, simply click on the turbine to zoom in on the wind farm. Note: only wind farms that had four or more units have maps. Next try clicking on the Green HRM (Halifax Regional Municipality) area to zoom in. Once zoomed in feel free to access the modified 4th tab by viewing the transmission and distribution lines, the smallest this map goes is only to the 27 kilovolt (kV) level, there is a road map with red street lines where the majority of the smaller feeder distribution power lines are built.
Sources: GreenPowerLabs' Solar Map, Department of Energy - Nova Scotia Wind Atlas, and Dr. Richard Karsten et al of Acadia University Assessment of Tidal Energy in Bay of Fundy, created each map respectively. HRM OpenData was used for some topography, road networks, building footprints, and the detailed outline of the HRM region.
Disclaimer: Although great care was taken to ensure the accuracy of the information presented from online sources, no guarantee is given on the completeness or the exactness of the data. I made minor edits to these maps so they fit properly when implemented together to present a cohesive display of the visual data. Fuel sources for thermal plants has evolved over the years, as best as possible the current fuel used is present, while the original year of units built reflects the initial operational date of the infrastructure, not necessarily the newer unit installation and/or upgrade date.